REAL PROTECTION FOR YOUR REAR DERAILLEUR
REAL PROTECTION FOR YOUR REAR DERAILLEUR
BLOCK ALL OBSTACLES IN YOUR WAY
NO MORE STICKS, STONES, BRANCHES, ROOTS…
BLOCK ALL OBSTACLES IN YOUR WAY
NO MORE STICKS, STONES, BRANCHES, ROOTS…
A NEW SAFEGUARD
FOR ROUGH MTB
IT REALLY WORKS.
IT SAVES YOU TROUBLE
SHIELD YOUR REAR MECH, HANGER AND WHEEL
Put the rear derailleur in the lowest cog. Peel off the adhesive tape. Lay it flat. Leave at least 1 cm between the derailleur and the inner surface of the Branchy blade. Sit on the bike and check.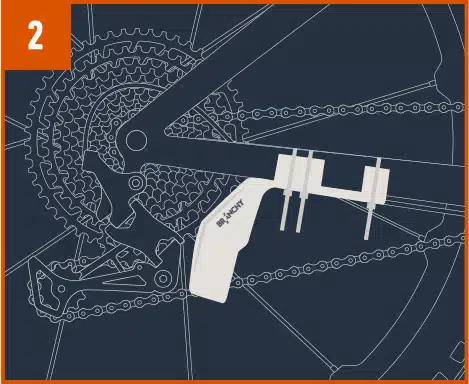 Start clamping it. Ensure that the inner
edge of the Branchy blade is vertically
aligned.
Make sure that the Branchy is not touching the chain line or wheel. Tighten firmly and trim the clamps. Check regularly.